Estate planning is necessary for anyone regardless of age, health status, and economic standing. It's especially crucial to create a valid estate plan if any of your beneficiaries have special needs. Without a carefully drafted will, trust, or other legal documents, your dependent family member's future isn't secure.
If you die without a valid estate plan, you leave your dependent special needs adults without the financial means to afford their care. They might not be able to pay for medical treatment, household assistance, and other necessary expenses. If they depended on someone their whole life and that person dies, they're left alone to fend for themselves.
You should create an estate plan specifically for the dependent adults in your life. If you're their primary caretaker or pay for their nursing home bills, you should set aside funds and execute a will, so they continue receiving the care they need when you're gone.
Below are tips you should follow for creating an estate plan for special needs adults. Contact us immediately if you have pressing questions. We have the experience you need.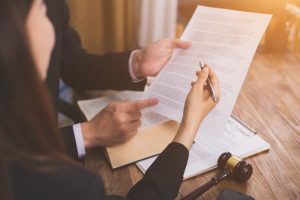 Write a Letter of Intent
A letter of intent notifies your guardians, trustees, and other people involved in the estate about the care of your disabled or incompetent family member. You can outline this person's routine, physical or mental impairments, interests, hobbies, medical needs, and other crucial details in this letter.
This isn't a legal document. However, it's valuable to any estate plan involving a special needs adult beneficiary. You should draft the letter immediately and regularly update it as your loved one's needs change. It's also important to have a conversation with anyone you address in the letter to discuss how they should handle these circumstances when you die.
Create a Trust
Dependent adults typically don't have the ability to maintain employment. They need someone else to pay for their household assistance, prescriptions, medical treatment, and other costs. You could set up a Supplemental Needs Trust (SNT) for the special needs adult in your life.
An SNT is a special trust you can use to transfer and hold assets for the benefit of your loved one and to cover their needs. Like a trust for a minor child, funds can go toward the adult's care. Additionally, an SNT doesn't prevent a special needs adult from qualifying for government assistance programs, such as Medicaid. If you have particular questions regarding your situation, don't hesitate to contact us today.
Appoint an Executor of the Estate
If you don't choose someone to manage your estate when you pass away, the court could appoint an executor for you. That means someone in your family you wouldn't want to have control of your assets could become your executor. It's vital to choose an executor while creating your estate plan and mention them by name in the legal document. Specifically indicate that they should be in charge of administering your estate upon your death.
Your family member in need of care should receive the assets, assistance, funds, and anything else you leave for them. Discuss your decision with the executor ahead of time, so they understand the situation. You should pick someone you trust to carry out your wishes and keep the dependent adult's interests in mind.
Choose a Power of Attorney
You might not realize the benefits of choosing a power of attorney (POA) during estate planning. An estate plan isn't only necessary while planning for death. It should also include instructions on how to handle your incapacitation.
Let's say you sustain a traumatic brain injury in a car accident and can't speak for yourself. Your POA can step in and direct your healthcare team. Depending on your estate plan, they might also have access to certain assets while you're incapacitated.
Your special needs adult child, parent, or family member won't have someone to take care of them while you're lying in a hospital bed. Your POA could take over temporarily by directing funds from your bank account to your loved one's assisted living facility, medical providers, and other parties. They can become the caretaker while you recover.
Schedule a Family Meeting
Although you can leave instructions or letters in your estate plan for your surviving family, it's best to also have open and honest communication in advance. Inform your family of your decisions regarding the dependent adult's future.
You should discuss your plans for future care, financial support, and other important matters. If you choose an executor, talk to them about how you want them to manage your estate when you die and if you should become incapacitated. Proper planning ensures that everyone is on the same page and might prevent disputes down the road.

Contact Us
The Dallas estate planning attorneys of Staubus and Randall have over 100 years of combined legal experience. We bring extensive knowledge and skill to every case we take. When we represent you during your legal matter, you can rest assured that you're in qualified and capable hands.
If you want to draft an estate plan to make provisions for the special needs adult you care for, do not hesitate to contact us at 214-691-3411. We have the experience you need and will be happy to meet with you for a consultation to discuss your needs.