Parker Attorneys Handling Estate, Trust, and Guardianship Litigation
Ensuring your estate is in order is one of the best ways to take care of your loved ones. Estate planning can be a complicated process, so hiring a knowledgeable lawyer is essential. 
The legal team at Staubus and Randall has the necessary experience, and skill Texans require to guide them through legal disputes about wills, trusts, and guardianships. Our seasoned litigators can also help review your circumstances and provide advice about the legal deadlines you'll need to meet. We can also create estate plans to ensure your assets are distributed to bolster your heirs' financial security. We are also equipped to provide advice about the rights and duties of executors, trustees, and beneficiaries. 
Contact Staubus and Randall today at 214-691-3411 to schedule a consultation if you have questions or concerns about estate-related issues. We are happy to talk you through your options.
Putting our Decades of Experience to Work for You
The Parker estate and probate litigation attorneys of Staubus and Randall have decades of combined experience assisting Texans in planning their estates and protecting their assets. We also represent clients for litigation involving probate, guardianship, and trusts. Over the course of many years of practicing in Texas probate courts, we have honed our knowledge and skills to allow us to handle all types of estate litigation. This ranges from straightforward, uncontested probate situations to high-stakes lawsuits involving estates, trusts, and guardianships. 
The skills we have developed can help you understand how to plan your estate while minimizing the tax implications. Our services also include asset protection planning for high net-worth individuals, professionals, and families and succession planning for closely-held businesses. 
We regularly represent clients in the following areas:
Trustee Representation
Trust Beneficiary Representation
Why Choose Staubus and Randall?
The highly experienced estate planners and litigators of Staubus and Randall have over 100 years of combined experience practicing in the areas of estate planning, trusts, guardianship, and probate. We focus exclusively on these areas of the law, so we can have a results-oriented approach to each case. The specific skills we have compiled throughout the years work to benefit every case we take on. 
We are proud to offer the extensive resources of a large legal firm but are also committed to providing the kind of individualized, personal experience you would receive from a boutique legal team. For our client's convenience, our firm also serves Dallas, Plano, and Richardson in addition to Parker.
We have earned the highest possible AV rating from Martindale Hubble, the prominent law firm rating service, as a further testament to our abilities.
If you would like to find out more about what services our firm can provide for your specific situation, don't hesitate to schedule a consultation where we can learn more about the nuances of your individual case.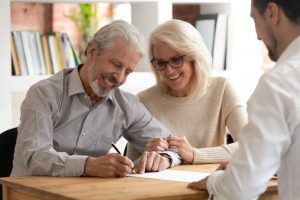 What Should I Expect When Working with Staubus and Randall?
At Staubus and Randall, our main priority is to work on behalf of your best interests. For this reason, we will need specific information and documentation related to your circumstances. This will include becoming familiar with you and your family, as well as with the details of your financial situation, which will allow us to know which options are available to explore on your behalf. 
Some of the documents we may ask you to provide during an estate planning or probate process include:
List of assets you own (include real estate, vehicles, personal property)
Bank account statements
Investment and retirement account statements
Business formation documents
Estate planning documents (powers of attorney, wills, trusts, etc.)
Death certificate (if applicable)
After we have considered all the variables of your case, we will be able to create a proposal that will make it possible for you to decide which steps you would like to take. We'll work together with you to formulate a concrete plan. Then, we will put that plan into action so that you can have the assurance your goals can be met.
Some situations are complicated and involve disputes. If this is the case, we will do all we can to resolve the situation via reconciliation or mediation. If a lawsuit is the only way forward, we will aggressively represent you to protect your best interests.
What is Probate Litigation?
Probate is the legal term for the process of distributing a deceased person's assets. The priority is to pay off any debts and then distribute the remaining assets to the beneficiaries according to the will of the decedent. In the event that no will was provided, the assets will be distributed to the heirs at law. Many probates are fairly simple, but they can sometimes instigate disagreements. If this leads to one of the parties filing a lawsuit, probate litigation is necessary. 
Lawsuits can occur in the following circumstances:
Questions about the legal meanings and effects of a will's statements
Concerns about the validity of the will
Belief that the will's executors or administrators have failed to fulfill their responsibilities 
Disputes about the right of survivorship or pay on death designations
Disputes concerning the validity of retirement benefits designations
Disputes over validity of life insurance beneficiary designations
Disputes about the identity of heirs-at-law (including claims of illegitimate children)
Disputes about community property issues
Claims of common law marriage
Creditors filing claims against the estate
Contact a Parker Estate, Trust, and Guardianship Legal Team Today
Whether your estate circumstances are straightforward or more complex, the experienced estate planners and probate litigators at Staubus and Randall are ready to help you. We will put all of our resources, knowledge, and experience to work, ensuring the process ends in a favorable outcome for you and your family. Our skilled lawyers are armed with integrity and compassion, and we will help you navigate the most appropriate legal course for your situation.
If you would like more information about how our legal team can help you, contact us today at 214-691-3411 and schedule a consultation.