Dallas Lawyers to Contest Wills Because of Mistake
If you believe your loved one executed their will by mistake, you should contact Staubus and Randall immediately. You might have legal grounds to contest the will in court.
With over 100 years of combined experience, our legal team can review the circumstances and create a strategy to try to resolve the matter favorably. We understand the overwhelming feeling of knowing the will your relative executed doesn't reflect their final wishes. The mistakes they made during the execution of the will could prevent you from receiving the assets you know your loved one wanted to leave to you.
You can count on our Dallas estate litigation lawyers to provide the representation and guidance you need to navigate the complicated litigation process. We can obtain evidence to prove that a mistake makes your family member's will invalid. You will have a dedicated advocate by your side until the end.
To schedule a consultation to learn more about Staubus and Randall and what we can do for you, call 214-691-3411 today.
Elements of a Valid Will
A will must involve various elements to be considered valid. These elements include:
Document in Writing
The will must be written by hand or typed and printed from a computer. The testator (the person making the will) must also sign the will in front of two witnesses, who must also sign the document.
A witness can only be a person at least 14 years old who isn't benefiting from the will. In other words, a beneficiary can't be a witness to the execution of a will.
Legal Capacity
The testator must have the legal capacity to create and execute a will. Legal capacity means the testator is:
18 years old or older;
A member of the United States armed forces; or
Has been lawfully married.
Testamentary Capacity
The testator has testamentary capacity if they are of sound mind and have the mental capacity to understand what they are doing. That means they know they're creating a will, and they understand the effects that the contents of the document will have upon their death. They also understand the extent and nature of any property they own and the distribution of their assets.
Testamentary Intent
Testamentary intent means the testator signs the will voluntarily and freely without the undue influence of another party. The testator must also intend to outline their wishes for the distribution of their property in writing.
Mistakes Involved in a Will Contest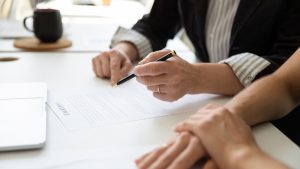 Multiple mistakes could occur that allow you to contest your loved one's will. The most common include:
Execution mistake – A mistake in execution involves the type of document signed by the testator. For example, the testator might have thought they were signing something other than a will.
Inducement mistake – Although the documents were correct, the testator mistakenly believed a fact regarding the will's contents. For example, they thought they owned a specific asset they wanted to leave behind to a beneficiary but forgot they transferred ownership to someone else a long time ago.
Language mistake – A mistake with the language contained in a will could make it invalid. For example, the testator wanted to bequeath their property to a specific beneficiary but mistakenly listed the wrong person's name.
Parties Entitled to Challenge a Will
You can contest a will due to a mistake if you are an interested party. Texas statute 22.018 defines an interested party as a:
An heir, creditor, devisee, spouse, or another person who has a claim against or right to the administration of the estate in question; and
Any individual interested in an incapacitated person's welfare, including any minor child.
You must have legal grounds to challenge a will. It's not enough to believe you deserve to receive a specific asset over another beneficiary or don't agree with the provisions in the documents attached to your loved one's will. There needs to be evidence that proves that the will is invalid and unenforceable.
Texas Time Limit to Contest a Will
In Texas, you must follow a statute of limitations, which is a specific timeframe, to challenge a will if you believe a mistake makes it invalid. The timeframe begins on the date the court admits the will to probate. You must file your case in probate court within two years of that date. If the deadline passes, you won't have another opportunity to contest the will.
You don't necessarily have to wait until the probate process begins to file your claim. In fact, it could be beneficial to pursue your case before the will begins probate. That's because probate involves a court determining whether a will is valid. If the court validates the will before you file, proving the will is invalid will be more challenging.
Why Hire Staubus and Randall?
The Dallas lawyers of Staubus and Randall who contest wills based upon mistakes made by the testator have represented clients in cases like yours since 1992. We know the state laws and legal procedures we must follow to prove that a will is invalid. The mistake made during the execution of the will should never have happened. We can develop an effective strategy to submit the appropriate evidence that proves your case so you can carry out your loved one's final wishes.
We offer a personalized approach to each case we take. Our legal team will determine the best way to meet your needs and try to achieve your specific goals. We provide one-on-one attention and treat each client as a priority from start to finish of their case.
We are proud of the reputation we built and maintained throughout Dallas. Multiple attorneys from Staubus and Randall have received recognition as Rising Stars and Super Lawyers from Thomson Reuters. We also hold an AV Preeminent rating from Martindale-Hubbell for our work ethic and positive case results.
Contact Us
If you believe your loved one made a mistake during the execution of their will, do not hesitate to contact Staubus and Randall. Whether the testator mistakenly used the incorrect language or signed the wrong documents entirely, you could challenge the validity of the will in court.
Call Staubus and Randall at 214-691-3411 right now to schedule a consultation with one of our Dallas lawyers who contest wills based upon mistakes made by the testator.