How to Approach Power of Attorney Abuse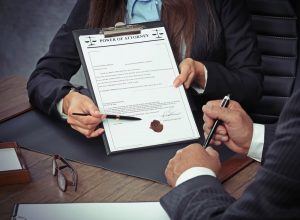 A power of attorney (POA) is a legal document giving your chosen attorney-in-fact or agent the authority to handle your affairs based on your best interests in specific situations. Terminal illness, cognitive decline, and traumatic accidents are a few of the common reasons creating a POA could be beneficial.
While drafting a POA, it's crucial to outline what you want to happen in specific scenarios clearly. For example, if you're in a car crash and end up in a coma, you should state how you want the situation to be handled. Depending on the type of power of attorney you create, your appointed agent can manage your business, financial, or medical affairs, or all three.
Abuse of a Power of Attorney
When you decide who you want to choose as your agent, it should be a person you trust completely. It should also be someone you know will carry out your wishes regardless of their feelings or opinions about them. Your designated agent could have access to your bank accounts and legally sign documents associated with your healthcare, financial affairs, and legal matters.
Although a power of attorney defines the agent's role, their authority over someone else's decisions can lead to abuse. If you become incapacitated, your agent could gift themselves with your assets. Or you might have to leave the country for a business trip, and your agent could decide to use your finances for personal gain in your absence.
Common Types of Power of Attorney Abuse
It's an unpleasant and disturbing feeling when you realize the person you've entrusted with a significant responsibility has betrayed you. You thought they would always act in your best interests and protect you. However, you might have noticed signs that your chosen agent has violated your trust and abused their position in your life.
Power of attorney abuse can take many forms. The most common types you should watch for include:
Identity theft – An agent can use the access they have to your personal information to open a new bank account, credit line, or investment account with your POA document.
Breach of fiduciary duty – The agent or attorney-in-fact has a fiduciary duty to act in your best interest from the moment the POA becomes effective. If they breach their duty in any way, they could be liable for lost money or assets.
Embezzlement – Under certain circumstances, a financial POA grants the agent authority over every financial aspect of a person's life. With complete access, the agent can embezzle funds from your account into theirs or transfer property that is supposed to go to your named beneficiaries.
Medical abuse – A medical power of attorney gives the chosen agent the responsibility of deciding your medical treatment when necessary. If you're unconscious or incompetent, you can't inform your doctors of the healthcare you want. Your agent might choose to move you into a nursing facility against your wishes or ask your doctors to use life-saving measures you don't want.
Proving Power of Attorney Abuse Occurred
If you believe your appointed agent is abusing a power of attorney, you should take immediate legal action. You will need sufficient evidence to show the abuse occurred. With financial abuse, providing documentation showing the agent transferred money into their accounts without your approval or made unauthorized purchases with credit cards could be the proof you need.
It's vital to hire an experienced power of attorney abuse lawyer to assist you with your lawsuit. If you want to recover the losses you suffered, you will need a knowledgeable legal team on your side to build a solid case against your agent. Your lawyer can also help you create a new power of attorney to protect you from abuse in the future.
Contact Staubus and Randall Today
Staubus and Randall has over 100 years of combined experience in estate planning and litigation. We can help you pursue legal action against the individual responsible for abusing their responsibilities as your POA agent. You should not suffer the consequences of their misconduct. We will provide the guidance and support you need to get through this devastating time in your life.
If you or your loved one was the victim of power of attorney abuse in Texas, do not hesitate to contact Staubus and Randall. We can review the circumstances to determine the available legal options and create a strategy to try to resolve the matter favorably. You can depend on our legal team to be your advocate and fight for the justice you deserve.
Call us at 214-691-3411 or reach out to us online today for your confidential consultation.